The Platform is a Non-Profit initiative of Covenant Christian Centre.
It is geared primarily to improving the individuals of Nigeria and the world.
Welcome to The Platform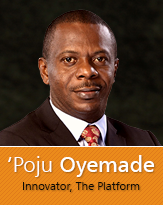 The Platform 10.1: Re-mapping Nigeria
Today we stand at a very critical place in the history of our country Nigeria. For the first time one can feel among the thinking and educated class of Nigeria a certain level of discontent with the way things are. Some ask, with all the bloodletting and corruption seemingly rampant in every strata of society, "is the project called Nigeria viable or worth it"?
Yet outside that environment hearing the thoughts and the voice from certain centers of power on the global level it is clear that the geographical space is loaded with potential. It is recognized as a powerhouse with possibilities and potentials crippled only by the fangs of corruption.
The Platform 10.2: The New Rules of Labour
The thoughts that express the essence of Platform 10.2 are best captured in an article I read sometime back written by Thomas Freidman of the New York Times. In it, he touched on the new rules that define labour. He spoke about the fact that as an older guy his perception of labour had to be adjusted.
He referred to an Ex-Global leader who once said "If you work hard and play by the rules" you should expect that the system will deliver you a decent life and a chance for your children to have a better one. That mantra really resonates with me and, I am sure, with many others. There is just one problem: Its out of date.
Meet The Platform Speakers